What We Do
Speak Up Has Gone Virtual!
Join us online for Speak Up, a creative writing program supporting the artistic and professional growth of teens.
In this virtual mini-series of creative writing workshops, teens will partner with experienced teaching artists to empower the creative writing process, from drafting to performance to publishing, to boost literacy and empower youth in Miami through community-based writing activities.
Special guest speakers have included nationally established writers and spoken word artists such as Mahogany L. Browne, author of Black Girl Magic: A Poem and Woke Baby, Aja Monet, author of My Mother Was A Freedom Fighter, and Kyandreia Jones, Choose Your Own Adventure Spies: James Armistead Lafayette.
The program is open to all teens (ages 13-19) and is as free of charge as it is free of homework. No previous experience necessary!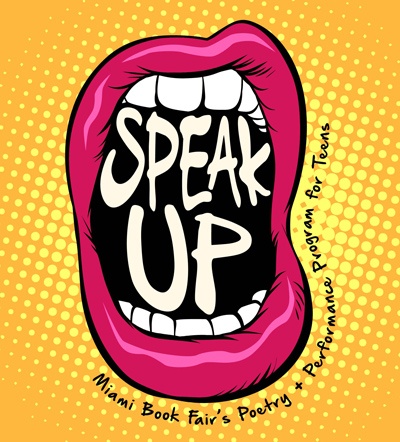 Online Creative Writing Workshops
Speak Up offers 90-minute online creative writing workshops taught by nationally-recognized and experienced teaching artists. These standalone virtual workshops focus on a new theme each week. Sign up for one, two, or the whole series.
Register today
Sign up for our virtual workshops via Crowdcast!
Saturdays, 3:00 p.m. – 4:30 p.m. EST
May 9 to May 30
---
Calendar
Saturday, May 9, 3:00 – 4:30 p.m. EST
Saturday, May 16, 3:00 – 4:30 p.m. EST
Saturday, May 23, 3:00 – 4:30 p.m. EST
Saturday, May 30, 3:00 – 4:30 p.m. EST
Thank You to our Speak Up Sponsors!