About the Prize | Eligibility Terms & Conditions  |  F.A.Q.  |  Submit Here
About the Prize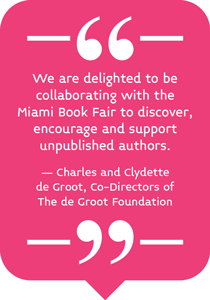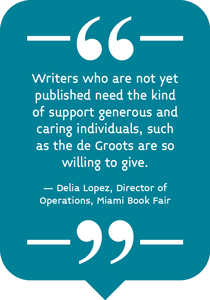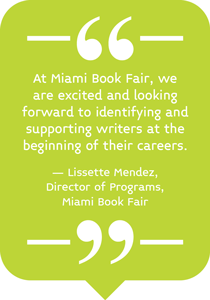 The Miami Book Fair, the nation's finest and largest literary gathering, presented by Miami Dade College, has partnered with The de Groot Foundation to launch the Miami Book Fair/De Groot Prize to be awarded to an author for an unpublished novella.
We created the MBF/de Groot Prize to fan the flame in emerging writers who yearn to be published. For some, the competition offers an incentive to give form to a story that has been floating in the back of their mind. Others will want to complete that half-finished manuscript lying in a drawer or reshape their unpublished novel into a novella. We want the prize to bring out the best in new authors who have a story that needs to be heard.
The Prizes
The winner of the Miami Book Fair/de Groot Prize will receive a $6,000 cash award, publication by Melville House, a critically acclaimed independent press, an expense-paid (hotel, travel, per diem) trip to the Miami Book Fair after publication, and a chance to read/participate in programs at the fair. The two runners-up will each receive $3,000, an expense-paid (hotel, travel, per diem) trip to the 2018 Miami Book Fair, and a chance to read/participate in programs at the Fair. The three winners work will be publicized in print and online media.
Prize Timeline
Submissions will be received beginning May 1, 2017
All submissions must be received online and paid for by midnight EST on July 15, 2017
The three finalists will be notified once the jury has made its decision on or before October 20, 2017.
The winners of the Miami Book Fair/de Groot Prize will be publicly announced on or before November 1, 2017
The Novella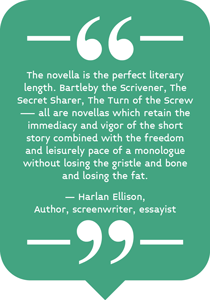 What is a novella?
A novella is a work of fiction between 17,000-40,000 words. Ian McEwan says: "To sit with a novella is analogous to watching a play or a longish movie." Novellas, rather than focusing on the large-scale issues you will find a novel, focus more on a character's emotional and personal development. A novella may have fewer conflicts than a novel. At the same time, the novella will be more nuanced and complicated than a short story. A novella can be a great opportunity to tell a story that you may have otherwise abandoned.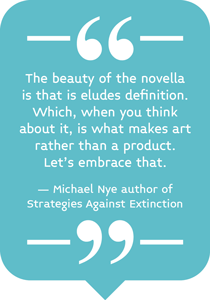 Some Notes on the Novella by Ian McEwan:
(From his New Yorker article, October 2012)
"I believe the novella is the perfect form of prose fiction. And is the means by which many first know our greatest writers. Readers come to Thomas Mann by way of Death in Venice, Henry James by The Turn of the Screw, Kafka by Metamorphosis, Joseph Conrad by Heart of Darkness, Albert Camus by L'Etranger. I could go on: Voltaire, Tolstoy, Joyce, Solzhenitsyn. And Orwell, Steinbeck, Pynchon. And Melville, Lawrence, Munro. The tradition is long and glorious… Read the entire article.
And, from The Daily Beast:
"The Novella is Making A Comeback: In Praise of Short"
By Taylor Antrim, August 4, 2011