In Person
Sunday, May 1st
@ Little Haiti Cultural Complex
Online
Sunday, May 8th
and
Sunday, May 15th
Miami Book Book presents Little Haiti Book Festival featuring authors from Haiti and the Haitian diaspora, a Haitian documentary, workshops for writers, storytelling and hands-on activities for children, dance and music performances, a community meet and greet with some of Little Haiti's award-winning VIP guests and community leaders, and more. Our panel topics include Haitian Vodou and Haitian music, with a special presentation celebrating the 100th birthday of two Haitian literary masters: Jacques Stephen Alexis and Émile Célestin Mégie.

IN-PERSON PROGRAM (MAY 1ST)
IN THE COURTYARD
IN THE AUDITORIUM
CHILDREN'S ALLEY
COMMUNITY MEET AND GREET
Don't miss the chance to meet some of our award-winning VIP guests and community leaders, including Sosyete Koukouy founder Jan Mapou; "Haitian Oprah" Elizabeth Guerin; journalist, anchor, reporter, and producer James Pierre; media personality Carel Pedre (Chokarella); media maven Wanda Tima (L'Union Suite and the Haitian American); WSRF founder Rose Coriolan; internationally acclaimed author Edwidge Danticat, ReadCaribbean coordinator and award-winning author Jessica "M.J." Fievre, Jitney's Daniel Fils-Aimé Jr., Executive Director of Haitian-American Historical Society Elizabeth Jeanty, Executive Director at Family Action Network Movement Marleine Bastien, and Radio Lekòl's Simone Degraff.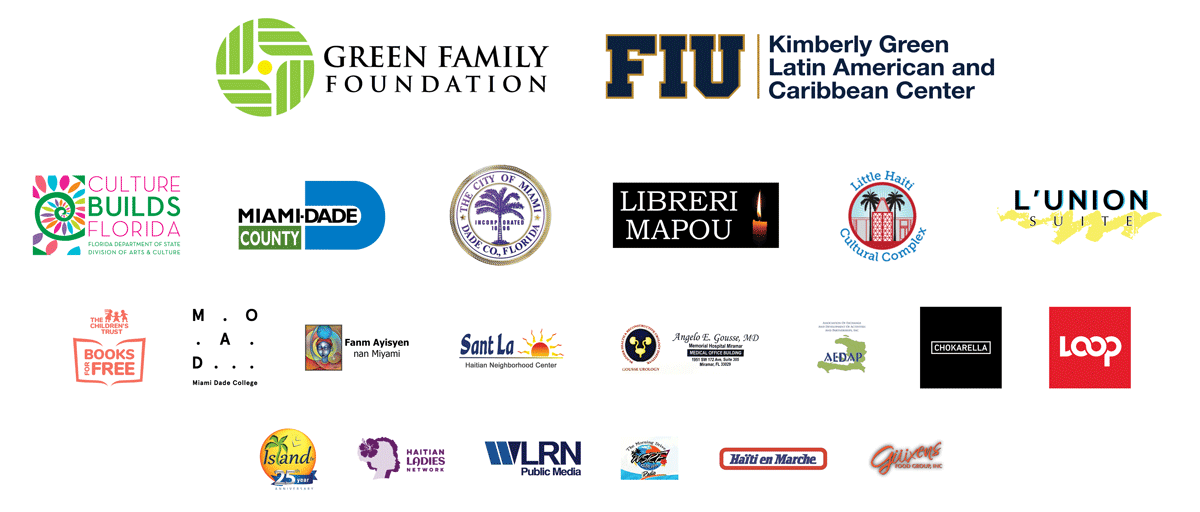 The Little Haiti Book Festival, formerly known as the Haitian-Caribbean Book Festival, has been presented in part by Sosyete Koukouy of Miami, Inc. for the past eight years. Sosyete Koukouy now partners with Miami Dade College's Miami Book Fair, widely considered to be the best book festival in the United States. The Festival relies on the generous support of The Green Family Foundation, Kimberly Green Latin American and Caribbean Center at FIU, Culture Builds Florida (DOS), Miami-Dade County Cultural Affairs, the City of Miami and the Little Haiti Cultural Complex, Libreri Mapou, and L'Union Suite. We also benefit from the support of the Books for Free program, the Museum of Art and Design/Miami Dade College (MOAD), Fanm Ayisyen nan Miami (FANM), SANT LA, Dr. Angelo Gousse, AEDAP, and Guixens Food Group. Our media partners include Chokarella, The Haitian American, Loop Haiti, Island TV, Imaginart, The Haitian Ladies Network, WLRN, WSRF, and Haiti en Marche.
Sosyete Koukouy of Miami
Established in 1985, Sosyete Koukouy of Miami, Inc. (Sos*ye*te Koo*Kouy), is dedicated to preserving Haitian culture in the United States through education and arts and cultural presentations. Its mission is to preserve, perpetuate and present Haitian cultural performances and exhibitions to Creole and non-Creole speaking audiences.In support of that mission, Sosyete Koukouy presents and produces cultural programs that increase awareness of Haitian people, their language, rituals and traditions, and their deep roots in the African continent. It also produces programs that foster greater understanding between Haitian people and people of other diverse ethnicities, cultures and heritage; and foster respect for the arts and artists of Haiti, African and Caribbean by raising awareness of their historical and artistic contributions to the national and international cultural landscape. Contact: Jan Mapou: 305-757-9922