We created the Miami Book Fair / de Groot Prize to fan the flame in emerging writers who yearn to be published. Awarded to the author of an unpublished novella, the prize offers both material and professional support for emerging writers in the forms of a cash prize, publication and the opportunity to publicly present their work at the Miami Book Fair.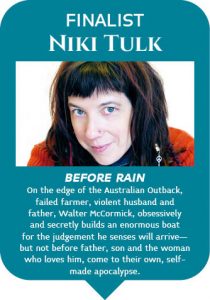 The prize will return next spring. Submissions will be accepted beginning February 14, 2019 and must be received online by midnight EST on April 30, 2019. While you perfect that novella you've been itching to submit, we thought you might enjoy getting to know our previous winners a little better so we asked them to answer a few questions, and we'll be sharing their answers over the next few weeks.
First up is 2017 runner-up Niki Tulk, who won for her novella Before Rain. Tulk shares some of her thoughts on writing, the impact the award has had on her work, and offers some useful advice for the beginning writer: "Write as often as you can", she recommends, "and don't show anyone else until you are sure you feel solid in your voice. Our writing is a tender sacred thing that needs to 'sound its barbaric yawp' without fear or favor."
You can read the full interview below and click here to read more about this prize and the new submission period.
---
Can you tell us a little about your experience as a writer to date?
I think that writing is something that chooses you, in a way. I cannot remember a time when I was not writing, storytelling, drawing and singing my stories.Writing saved me. There were many times I story-told my way out of being bullied, for example, … my insurance for a while was telling customized tales under a tree in exchange for protection, or the distraction of my tormentors. My friends and mentors breathed amid the pages of my books, so writing was a way to meet them, spend time in their world that was so much kinder and more imaginative than my own. But officially, I write and publish poetry, criticism, performance work (I am a theatre-maker by trade) and, of course, fiction. I completed an MFA in Fiction at The New School in NYC and also studied briefly at St Joseph's College. In both those places I have been incredibly lucky to work with some of the most generous and gifted writers on the planet, including Justin Torres and Benjamin Taylor—both of whom have been foundational in not only midwifing this particular work, but midwifing me as a writer, I think—especially by believing in me—that sort of cheerleading goes such a long, long way.
Your novella 'Before Rain' was the runner-up for the award. Can you remember what encouraged you to enter the competition?
In my MFA course in NYC I did a subject on novellas—what that meant is that for a whole semester I read one novella every week. I fell in love with the form—it seemed to marry the distilled nature of poetry, in terms of the exactness it demands of image and diction, with the narrative flow of a short story, but allowing for greater depth and detail. I decided that the next project for me would be to write a novella, and to cut a long process short, I did. So when I came across the competition, I was excited because there are not many places one can submit a novella.
Has winning the award had an impact on your writing?
It has had a seismic impact on my work. I think because when I write, I do it for readers—to me, writing is profoundly dialogical, and the work is not complete until it finds someone to whisper to, who then holds it and gathers it into their own world, where it becomes something else—something new, with a life of its own. And yet it is so fraught, that process of finding your readers. I have published in journals, performed at readings, and that has all been wonderful, but to be seen and heard at this level … it has encouraged me to keep working, to believe in the stories inside that I feel need to come out and be in the world.
What would you say to someone who is considering entering the competition, but is unsure whether they have enough experience as a writer?
I wouldn't go on experience as the key thing, but on what they feel about the quality of the work. I would encourage them that if they feel their story has something of it that needs to find its "other half" (that is how I think of readers) then they should submit it. Not before it has been as thoroughly worked over as possible, though. Maybe the less experience the writer has, the larger the village needed to get the piece into shape; but then again—maybe the more experience you have, the more you realize the enormous need for that village!
What's your one big tip for a new writer?
Oh wow, I have a bunch, and I give these tips to myself all the time. Read and read and read. Read what you like, what you hate. Read poetry, prose, memoir. Read outside your own culture and country, across genres. Read Australian literature! 🙂 And write as much as you can. I think writing is a skill that gets stronger the more you do it, so I grab pockets of time whenever I can to write, even though chunks of time more than two hours are rare. Listen. Eavesdrop on friends, relatives. Look. Form a keen eye for gesture, faces, compositional arrangements in the landscapes around you. Write as often as you can (public transport is great!) and don't show anyone else until you are sure you feel solid in your voice. I think that we are conditioned extremely thoroughly to adjust to what we perceive others want/expect from us, and our writing is a tender sacred thing that needs to "sound its barbaric yawp" without fear or favor. So care for your voice and let it grow strong before subjecting it to the scrutiny of others. Expect to rewrite twice as much as you write. Support your fellow writers, keep a generous spirit. Don't write to get published per se, but write to create the most truthful, incredible art you can make. Stay true, break all the rules and then stick by them too, just to see where that takes you. Be open-minded and open-hearted, and find others who share your passion for words. And have fun!!