Speak Up After-school Creative Writing Workshop with Kyandreia Jones
Monday, March 9, 2020 @ 4:00 pm
2705 SW 3rd Street

,

Miami

,

FL

33135

United States
Join us Speak Up after-school creative writing workshops are taught by nationally-recognized and experienced teaching artists at MDC's Koubek Center on Mondays from 4 to 7 p.m. The focus of these workshops is to cultivate the creative writing process in spoken word and performance poetry, from drafting to performance to publishing to slam competitions, to empower participants, equip them for success, and build a lasting literary community in South Florida.
For more information and to apply, visit miamibookfair.com/speakup.
---
Choose Your Own Adventure: Poetry Edition
with Local Author Kyandreia Jones
BEWARE and WARNING! This workshop is different from other workshops. You and you alone are in charge of what happens in this two hour writing session. What is a choice? What makes choices important, interesting, right or complicated? To what extent, have choices, whether your own or others, shaped who you are today? In this workshop, led by local author Kyandreia Jones (Choose Your Own Adventure SPIES: James Armistead Lafayette®), you will have an opportunity to write poetry that celebrates the most important feature of a Choose Your Own Adventure book: the choices! You will create 2-3 poems that discuss the act of choosing between one or more possibilities in a compelling, powerful and exciting way. There will be three options and you can choose the order in which you write your poems. You may decide to write a narrative poem that ends with a choice, a poem made completely of choices, and/or a freestyle poem that takes on the theme of "choice". You must be creative, quick and bold to successfully master this exercise, but never fear; Kyandreia is happy to support your adventure in any way that you need. Be sure to have fun and get excited because your hard work just might inspire you to take on the mysterious Open Mic!
Kyandreia Jones is a Posse Miami Scholar and Graduate from Hamilton College where she received her B.A. in Creative Writing. She was born and raised in South Florida. When she thinks of home she likes to muse that she is in a "sunshine state of mind". Jones' poetry and prose has been published in various college literary publications and magazines such as Red Weather, Grasping Roots, The Black List Journal and The Underground. Opportunities like having her first short story "At Home" published by Living Spring Publishers in Stories Through the Ages, College Edition 2017 inspired Jones to take her writing to new heights. In May 2019, Chooseco published Jones' first book Choose Your Own Adventure SPIES: James Armistead Lafayette. Jones is currently working on her second book in the SPIES series which is set to release in the Fall 2020. Working for Choose Your Own Adventure has been the highlight of Jones' career and she cannot wait to see what other adventures await her as a writer, visiting author and public speaker! Jones values reading, writing, laughing, and promoting universal kindness.
---
The main workshop facilitator is Cecily Schuler, a local established poet.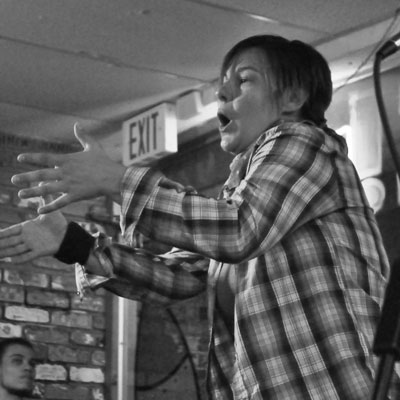 Cecily Schuler is a genderqueer writer and spoken word artist, raised and based in South Florida. Their work is featured in Jai Alai Magazine, Winter Tangerine, the Offing, great weather for MEDIA and elsewhere. Cecily received their MFA in Writing from the Pratt Institute in Brooklyn, NY, and attended residencies at Breadloaf Writers' Conference, the Home School: Miami, and Vermont Studio Center. They are the 2016 Vox Pop Individual Slam Champion, have repped and coached teams in Seattle and New York City, and are the winner of the Inaugural National Poetry Month Online Slam (2018). A 2017 Brooklyn Poets Fellow, Cecily is currently working on a full-length experimental poetic memoir.