Speak Up After-school Creative Writing Workshop with Aja Monet
Monday, February 24, 2020 @ 4:00 pm
2705 SW 3rd Street

,

Miami

,

FL

33135

United States
Join us Speak Up after-school creative writing workshops are taught by nationally-recognized and experienced teaching artists at MDC's Koubek Center on Mondays from 4 to 7 p.m. The focus of these workshops is to cultivate the creative writing process in spoken word and performance poetry, from drafting to performance to publishing to slam competitions, to empower participants, equip them for success, and build a lasting literary community in South Florida.
For more information and to apply, visit miamibookfair.com/speakup.
---
Guest Speaker: Aja Monet
Aja Monet is a Caribbean American poet. Her poems are wise, lyrical, and courageous. Monet won the legendary Nuyorican Poet's Café Grand Slam title and has been internationally recognized for combining her spellbound voice and vivid poetic imagery on stage. In 2018, Monet's first full collection of poetry, My Mother Was A Freedom Fighter, was nominated for an NAACP Image Award for Outstanding Literary Work. She was a featured speaker at TEDWomen 2018 for her meaningful work in South Florida with Smoke Signals Studio.
"Freed Between The Lines: Poetry for the People"
There are many untold stories we carry. Each story shapes who we are and how we imagine the world around us. Poetry is the practice of truth-telling. In this workshop, join Aja Monet in exercises and writing prompts that will awaken our ability to tell the truth about the stories that have silenced us. The choice to write a poem in response to the times we are living in is a political choice, an action, and a contribution to the collective narrative. Language and how we use it is liberating. Let's get free!
---
The main workshop facilitator is Cecily Schuler, a local established poet.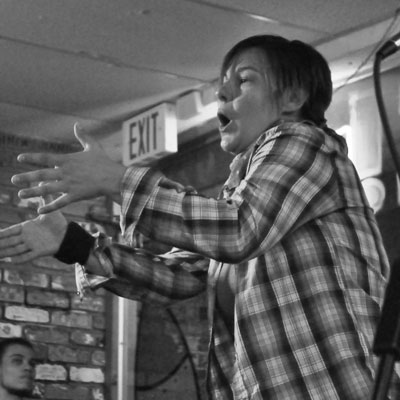 Cecily Schuler is a genderqueer writer and spoken word artist, raised and based in South Florida. Their work is featured in Jai Alai Magazine, Winter Tangerine, the Offing, great weather for MEDIA and elsewhere. Cecily received their MFA in Writing from the Pratt Institute in Brooklyn, NY, and attended residencies at Breadloaf Writers' Conference, the Home School: Miami, and Vermont Studio Center. They are the 2016 Vox Pop Individual Slam Champion, have repped and coached teams in Seattle and New York City, and are the winner of the Inaugural National Poetry Month Online Slam (2018). A 2017 Brooklyn Poets Fellow, Cecily is currently working on a full-length experimental poetic memoir.