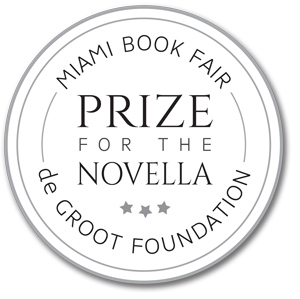 Alarms about the demise of literature are sounded daily these days, and it's getting harder not to listen. A book, after all, seems an unlikely match for the countless sources of instant gratification constantly vying for our attention today. There are, however, some brief literary forms with the focus and dynamism required to compete with the iPhone screen. One of these—the novella—is enjoying a ferocious come-back, and this renaissance is in no small part thanks to the work of Clydette and Charles de Groot, co-directors of the de Groot Foundation.
A longstanding ally of the literary arts with a proud history of supporting aspiring and emerging authors, the de Groot Foundation began supporting the novella in 2010, with the launch of the Paris Literary Prize. Awarded in partnership with legendary bookstore Shakespeare and Co. to a novella written by an unpublished author, this prize demonstrated the Foundation's unwavering commitment to the empowerment of emerging literary voices and, by extension, to the preservation of the literary tradition itself.
It is, to be sure, a commitment we share wholeheartedly at Miami Book Fair, and one we have been jointly pursuing with the de Groots since 2016, when the Paris Literary prize would find a new home, and a new name to match, in South Florida's vibrant literary community. "We are delighted to collaborate with the Miami Book Fair to discover and encourage talented unpublished authors," said Charles and Clydette de Groot of this important initiative, which is concluding its first award cycle as the Miami Book Fair/de Groot Prize awarded to an author for an unpublished novella.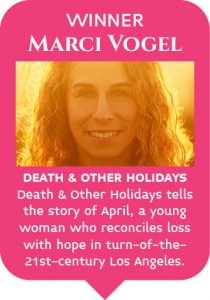 The winner of this year's prize is Marci Vogel. Vogel will receive a $6,000 cash award for her novella, Death & Other Holidays, the story of a young woman reconciling love with loss in 21st century Los Angeles. Described as "wryly appealing and quietly moving, in its own minimalist way, as well as deftly constructed" by prize judge Jim Shepard, Vogel's novella will be published by prominent independent publisher Melville House, and released at a special reading as part of the 2018 Miami Book Fair.
The two runners-up are Niki Tulk and Branden Boyer-White. Niki Tulk won for the novella Before Rain, set in the Australian Outback, where a man is building an ark for an apocalypse of his own making, and Branden Boyer-White for Dice, a magical-realist tale of a man caught at the crossroads in his marriage and life. Tulk and Boyer-White will each receive $3,000 and a chance to participate in readings and programs at the 2018 Miami Book Fair, the nation's finest and largest literary gathering.
The prize will return later this spring, when aspiring and emerging authors will once again have the chance to put the lie to rest. Literature is alive and well, and we have prizes like these to thank for it.
Stay tuned for the new submission dates and guidelines. They will be coming soon.