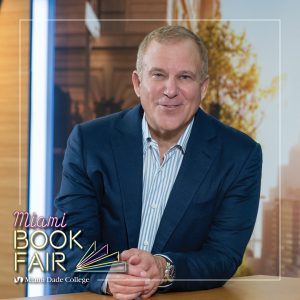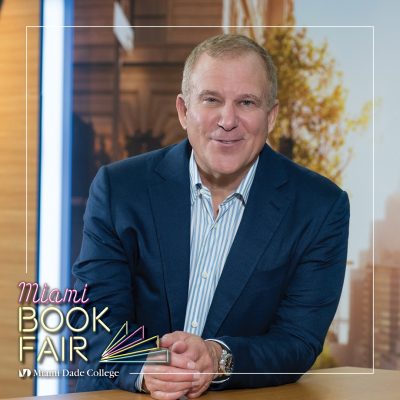 Jonathan Chariff is the CEO of South Motors, which has been supporting Miami Book Fair since 2011! He recently sat down with us to share his thoughts on the country's largest and most beloved celebration of books and literature.

Why does South Motors support Miami Book Fair?
Reading opens our minds and hearts to new possibilities, and Miami Book Fair does a fantastic job engaging our community – especially our children. I couldn't help but want to be a part of it! As sponsors, we're proud to have a significant presence at Street Fair, which holds a particularly special place in my heart. Investing in uplifting our community through access to literacy, togetherness, and education will always be deeply important to me.
South Motors sponsored several author sessions at last year's Miami Book Fair Online. There were so many great programs – why did you select the ones that you did?
Roddy Doyle in conversation with Roger Rosenblatt, Dean Koontz with Benjamin Percy, and P.J. O'Rourke with Dave Barry. All were particularly exciting to me, as I'm a big fan of these individuals and their bodies of work. I also felt that these conversations would offer particularly poignant insight regarding this past year in the pandemic, and would do so with a dose of humor – especially Dave Barry, one of my favorite satirists. Some of my other favorite author sessions that we've sponsored in the past were John Grisham with David Grann and Hampton Sides, Walter Isaacson, and Rick Atkinson in conversation with Brenda Wineapple.
Book Fair can be almost overwhelming – there's so much going on! Is there any one moment or experience you've had at MBF that really stands out for you?
It would have to be three years ago at Street Fair. Seeing 5,000 school kids arriving in droves with such genuine excitement for this event truly moved me, and being a part of something that offers them this positive experience around education and literacy made it all the more rewarding. For me, seeing the impact on their faces – directly, literally – is priceless.
Did you have a favorite book as a child, something you read over and over again?
Jack & The Beanstalk. As a kid I just loved the story, but now I look back and I realize it taught me a lot about the value of trust. And of course not letting your eyes become bigger than your wallet! 
What's on your nightstand right now?
Aside from devouring every newspaper and auto industry trade magazine each day, I often enjoy a good memoir or thriller. I just finished Anthony Bourdain's Kitchen Confidential, which I actually listened to on Audible. It was a real treat hearing him read his memoir aloud, and he so beautifully captures the chaos and real characters of the underbelly of the restaurant business. I'm looking forward to John Grisham's new thriller, which is set to come out at the end of October. I'm a sucker for Grisham!
Why is supporting cultural institutions like Miami Book Fair important?
As the world around us continues to change – in both positive and frightening ways – there is nothing more comforting than cracking open a good book, sitting in the quiet, and getting lost in a great story. Investing in uplifting our community through access to literacy, togetherness, and education will always be deeply important to me.
Interview by Elisa Chemayne Agostinho.