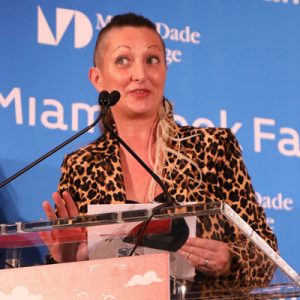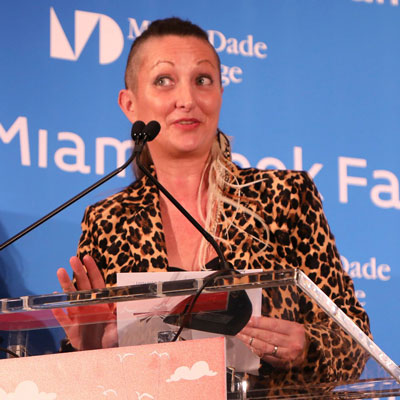 Kimberly Green was born and raised in Miami, and through the Green Family Foundation has been a longtime and significant supporter of Miami Book Fair, as well as other vital cultural institutions in the Magic City.

---
How did the Green Family Foundation come to be a Miami Book Fair supporter?
How my family originally got involved came from the fact that we attended Book Fair; we were people who enjoyed going. It was always a very exciting time of the year, so being a fan was what first sparked our interest. As far as the foundation, its mission really fosters and supports cross-cultural and cross-genre dialogue, and that lines up with the Fair's mission, too – like notable politicians who have written books coming here to speak to communities of color, for example. And Miami being a majority-minority city, we're able to attract diverse audiences. So when the foundation was approached to partner with the Fair, it was a win-win. Book Fair is really good at reaching out and working with other organizations within the community.
You're a major partner of ReadCaribbean and Little Haiti Book Festival – why do those programs hold such significance for you?
It's really important that the people who originated from countries in the Caribbean, Latin America, South America, hear voices from those countries and those communities, and learn things about them that are not just poverty, not just revolution, and not just natural disaster – it's even more important for people who didn't. These are countries and cultures that have incredible treasures to share, in people, in storytelling, in lives. Bringing those voices to Miami and Miami Book Fair really highlights that. And ReadCaribbean and Little Haiti Book Festival do that, in a safe, uplifted space.
Why is supporting Miami Book Fair so important?
One of the things that I really like about Book Fair is that it highlights not just authors of note, but also politicians and journalists and people you know in another context, and then you learn they've written a book and you're able to experience that cross-genre discussion, and see the importance of literature. It's not just about selling books, it's about sharing lived experiences and opinions and thoughts – and these are thought leaders. Another thing I really like is that Book Fair shows young people there are living people today they can look up to and emulate that are doing really cool, interesting things. When you're actually engaged with and looking at – in the flesh – these people who have created wonderful universes for you to lose yourself in, or presented other realities for you to learn about, I think that's really important.
I know you must have many, but is there one particular Book Fair moment that stands out for you?
I'm lucky; because of our commitment to the Fair I've had the opportunity to present some amazing authors, and I've been able to introduce Patti Smith – not just once, but twice! That was a moment of unreal grace for me. She was ethereal. But something really funny happened one of the years I introduced her. [laughs]
Tell me!
So that year my hair was really long but the sides of my head were shaved, and I was wearing a leopard-print jacket and had on these really funky gold platform boots, and I got to present Patti Smith and it was this real rock-and-roll moment for me. After that I left the Fair with a friend of mine; we hopped in his car, pulled out into the street, and were immediately surrounded by police. We were like, what is going on, we weren't speeding. And one of the police officers had the megaphone out and told us to put our hands outside the windows and another one took my friend out of the car, and I'm just sitting there not knowing what's going on when another officer asked me to get out of the car, too. Now, you have to remember what I was wearing and the hair and all of that. So I get out of the car and he looks at me and says, 'Where are you coming from?' And I said [deadpan] 'A book fair.' [laughs]
The look that must have been on his face! Did you find out why they stopped you?
So it turned out – as could only happen in Miami – there was a break-in at a bank, and the bank robber's getaway car was a Maserati. [laughs]
Do you take advantage of any MBF programming during the year?
Oh, yeah, I try to do as many things as possible. By the way, you guys did an incredible, incredible job with your online platform with the pandemic.
Last question, and I'm super excited to hear your answer – what are you reading right now?
Among the Beautiful Beasts by Lori McMullen. It's a novel, a historical novel, about Marjory Stoneman Douglas, given to me by a friend of mine who was a Miami Herald reporter for many, many years. I'm a sucker for any Miami story – I'm a sponge for it – and this book is really special. It's been fascinating to learn about her as a young woman, what motivated her, and how she became a suffragist and an environmentalist. She had this crazy, interesting life.
Interview by Elisa Chemayne Agostinho.