We created the Miami Book Fair / de Groot Prize to fan the flame in emerging writers who yearn to be published. Awarded to the author of an unpublished novella, the prize offers both material and professional support for emerging writers in the forms of a cash prize, publication and the opportunity to publicly present their work at the Miami Book Fair.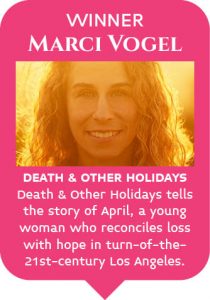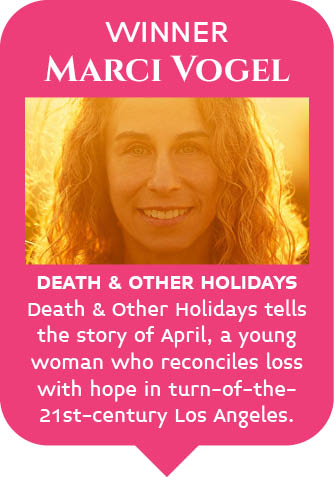 The prize will return next spring. Submissions will be accepted beginning February 14, 2019 and must be received online by midnight EST on April 30, 2019.
This week we turn to prize-winner Marci Vogel to get her thoughts on many of the same questions, including her one big tip for new and aspiring writers. "Keep writing what you write," recommends the author, "and even if nobody (including yourself) knows what to make of it just yet, keep writing as truly as you can. A kind of magic may emerge."
---
Q1: Can you tell us a little about your experience as a writer to date?
Well, I've written since I was a girl, but that I might grow up to be a writer was inconceivable––nobody in my family wrote, and the books I checked out of the library each week seemed a kind of magic, not something I might ever make myself. But maybe writing is something you do, not something you are, and no matter what else I was doing (or was), I always wrote. At one point, in my forties, I started writing what I knew were poems, only I had no idea how to craft them. A loving and generous family member helped me attend a low-residency MFA program––I taught elementary school full time then and could only be away during summers––and my professors there encouraged me to apply to the PhD in creative writing program at USC, where I graduated last spring. I'm a first-generation college student, so to wind up with both a book and a doctorate seems a double astonishment sometimes. As it turns out, my grandfather and father were both great letter writers, and my Lithuanian-born grandmother taught English in her Chicago tenement apartment, so maybe a love of language has always been in the DNA, only a little more recessive.
Q2: Your novella 'Death and Other Holidays' was the winner for the award. Can you remember what encouraged you to enter the competition?
Oh, it was a whole universe of encouragement! If you can believe it, I drafted some of the first pieces of Death and Other Holidays nearly 25 years ago in Jim Krusoe's creative writing class at Santa Monica College. Jim told me to keep writing. As the book took shape, it didn't look like anything I'd ever read. I tried mailing it out (yes, the mail!). People wrote back (the kindest rejections), but nobody seemed to know what to do with a small book of tiny stories, so I put it in a drawer. Years passed. I wrote another book, this time of poems. This book found a home, and last year, Lynn Melnick invited me to write an essay for VIDA about publishing a first book of poetry later in life. While I was writing about the book of poems, the small book in the drawer started knocking, so I took it out and sent one of the stories to Claire Eder, whose editorial team published it in Quarter After Eight. Around the same time, Michelle Bitting helped me sign up for a listserv created by Allison Joseph. On the list was the Miami Book Fair / de Groot Prize call for novellas. The de Groot Foundation is an incredible supporter of the arts and education, and I'm a huge fan, too of Melville House and community colleges, so I sent the small book of tiny stories, and I guess all the stars aligned, even if it did take light years!
Q3: Has winning the award had an impact on your writing?
Maybe because I've worked so long and so hard behind the scenes, the writing itself seems to lead by its own measure, which is to say it's not so much tied to public notice as to its own process of evolution. At the same time, I'm always working with a reader in mind—and I very much include myself as a reader in need of the work she is creating. I'm probably one of the slowest writers on the planet (a kind person once reframed this as "deliberate"), so to have this degree of recognition is like an enormous YES from the cosmos in support of patient, careful work that will eventually find its home in the world. And, absolutely, the award fueled me through the deep sequester of revision; the final version of Death and Other Holidays would not be what it is had it not won the award.
Q4: What would you say to someone who is considering entering the competition, but is unsure whether they have enough experience as a writer?
To submit work for any competition is a big deal, I think. Beyond the work itself, there's the time it takes to prepare a manuscript according to specific guidelines and then any fees involved, which of course support the wider literary community. There can also be an emotional element––Death and Other Holidays was an "almost" so often, I became accustomed to not gauging a sense of artistic worth by anything but my own navigation system. When I wrote the initial draft, however, I was still very much emerging as a writer, so I wouldn't say it's experience so much as readiness of the work itself. As with any investment, it's wise to bring as much consideration into it as possible––does the work feel genuinely ready? has it been shared with trusted readers? does it seem to sing on its own as a work of art that speaks to others? If so, the Miami Book Fair / de Groot Prize is the exact kind of opportunity to help it fly!
Q5: What's your one big tip for a new writer?
All those years ago when I was writing what would become Death and Other Holidays, Jim Krusoe, my teacher at Santa Monica College, told me very simply: keep writing. It was hugely encouraging at the time, and I still think of it as such kind, humane, and real counsel because no matter what happens to the work itself, for a writer not to write is painful. So keep writing — keep writing what you write, and even if nobody (including yourself) knows what to make of it just yet, keep writing as truly as you can. A kind of magic may emerge.