This year's Big Read was a great success. Couldn't join? There's still time to get this year's Big Read book, The Best We Could Do, download the bilingual zine in collaboration with Saigoneer, In My Ear, Your Voice Still Flickering, and stream the Keynote with Thi Bui and Viet Thanh Nguyen.
WHAT'S THE BIG READ?
Miami Book Fair's The Big Read Miami is a partnership with the National Endowment for the Arts (NEA) and Arts Midwest that aims to inspire meaningful conversations, artistic responses, and connections with our community through the power of a shared reading experience. This year's book of choice, The Best We Could Do, is a critically-acclaimed illustrated memoir by Thi Bui, about the lasting effects of one family's escape from war-torn Vietnam, as they build a new life in America.  Every Big Read Miami event was inspired by Thi Bui's poignant memoir. Get the book.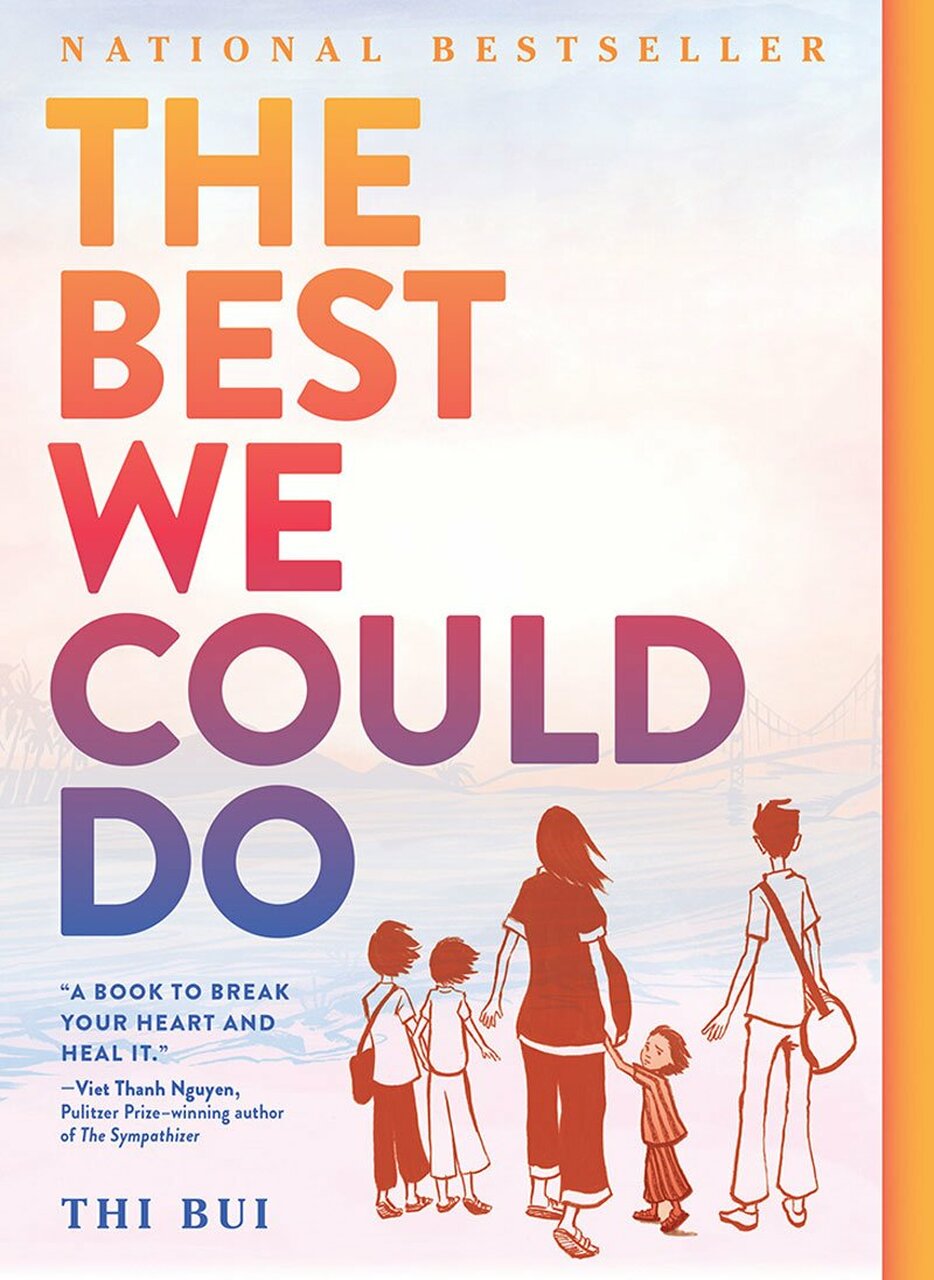 Storybook Picnic | A Day With the Family
Big Read kicked off with Picnic de Libros, a bilingual (Spanish/English) afternoon featuring multiple activities for the whole family, especially the kids! The day started with a puppetry workshop – featuring lots of strings and crafting skills – led by Colombian actor Danly Arango. It was followed by storytellers Marilyn Romero and Geraldine Townsend, who interpreted the picture book, A Different Pond, written by Bao Phi and illustrated by Thi Bui. Children danced to the beat of Christian Olmtak 's music, then sat with their families around baskets full of free books to read and take home.
(Re)Imagining Home: A Bookmaking Workshop with Mia Leonin and Nereida Garcia Ferraz | Magical Workshop Day
Visual artist Nereida Garcia Ferraz and writer Mia Leonin led a bookmaking experience like no other. Participants connected with their past while writing, drawing, painting, and collaging, as they created a book interpreting their individual lived experiences, while also considering the collective experiences of their group.
Speak Up: Teen Creative Writing + Performance Program | Diving Into Comics with Wendy Xu
For comic book fans, and all those curious about the art of comics, the Big Read presented Wendy Xu, who taught a two-week workshop as part of MBF's Speak Up series. Xu covered comics history and creative techniques. She started the students off by explaining the basics, showcasing examples of the art by the great Qi Baishin, known for his whimsical and playful works, while also going further into style, the importance of pacing, and the role of the story in comics. Students listened attentively while Xu told them about her beginnings writing and drawing, and her inspiration, and gave them tips on how to get better at their craft.
Speak Up: Teen Creative Writing + Performance Program | Inspired Comics Weekend with Trung Le Nguyen
Business insights from a comics creator? The Big Read had them! Trung Le Nguyen, comics artist and writer, taught Speak Up workshops over two weekends, sharing his knowledge of the industry as he led students on a tour of his past works. From an in-depth look at long-form graphic novels, to detailed discussion of the elements found in successful comics, and how long comics are developed for traditional publishing – even referring to his beginnings posting comics online –  Nguyen covered the craft and business, placing emphasis on career-building.
First Draft: A Literary Social | Traditional Vietnamese Poetry with Joshua Nguyen
Vietnamese-American writer Joshua Nguyen taught a poetry workshop on Lục Bát, a traditional Vietnamese poetry form. In addition to sharing the history of the form, Nguyen offered prompts that helped participants create works focused on momentum and connecting the past to the present.
Keynote | Thi Bui & Viet Thanh Nguyen: A Conversation
Inspirational and memorable are just two of the words used by audience members to describe the Big Read keynote featuring Thi Bui and Viet Thanh Nguyen. Long-time colleagues, Bui and Nguyen opened up about their shared experiences as refugees from Vietnam, briefly touched upon the war in Ukraine, then dived into Bui's activism, career, and what inspired her to write The Best We Could Do. Bui's memoir is an emotional soulful ride, as Thanh describes it: "A book to break your heart and heal it."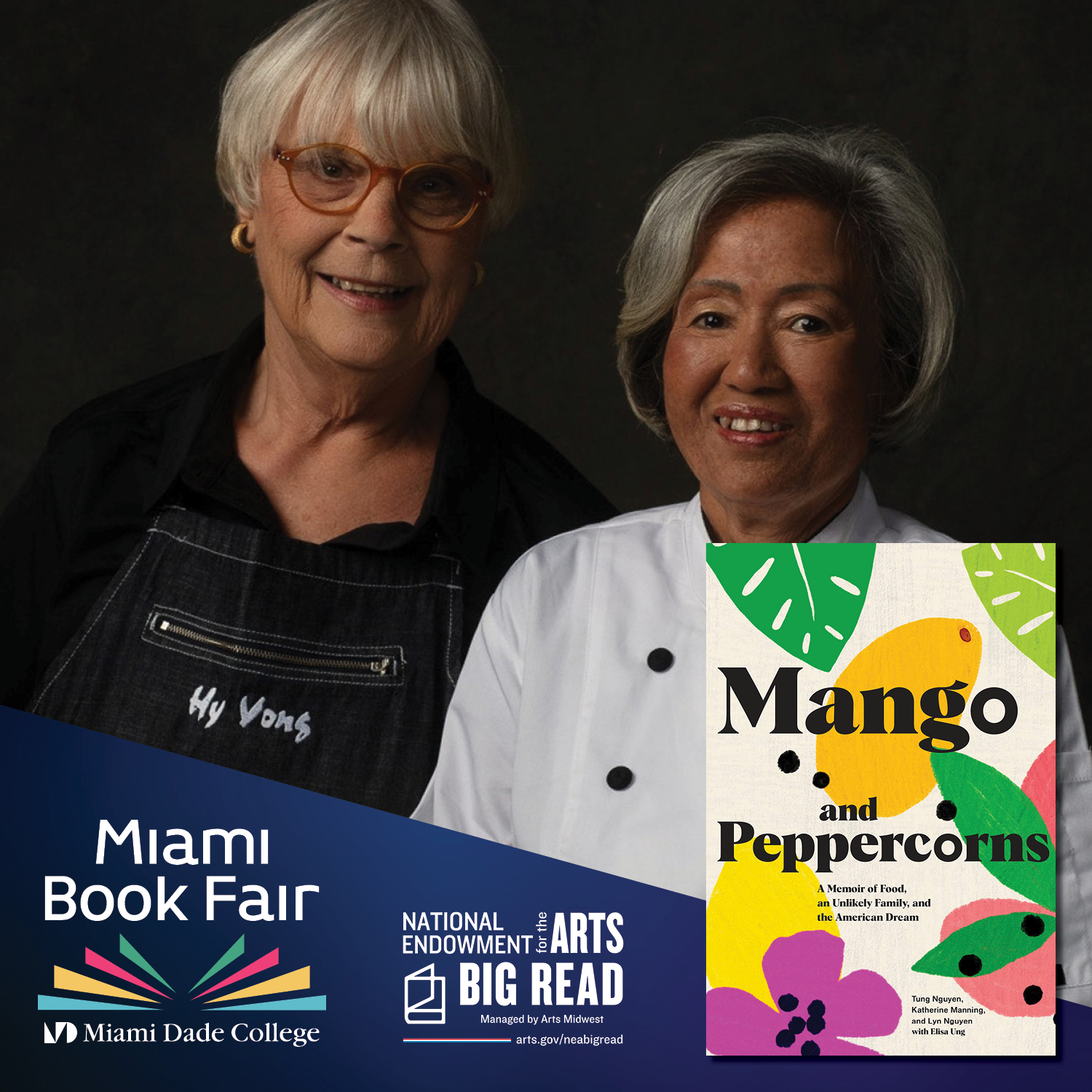 Miami's Own | Celebrating the Culinary Legacy of Hy Vong
For more than 40 years, a 10-table restaurant in the heart of Miami's Little Havana neighborhood was the site of celebrations, romantic dates, and family reunions. The dream and hard work of Tung Nguyen and Kathy Manning, who met during wartime in Vietnam, created an institution. Big Read 2022 celebrated their legacy at Books & Books, when more than 50 fans of their pork rolling cakes, pumpkin soup, and fish in mango sauce, among other dishes, gathered to reminisce. Everyone in the audience left with a copy of the family's memoir-with-recipes, Mango and Peppercorns: A Memoir of Food, an Unlikely Family, and the American Dream, in addition to Thi Bui's The Best They Could Do.
From Saigon to Miami | A World Connected Through Art
For our Big Read finale, MBF featured an Evening of Contemporary Vietnamese Literature and Art, celebrating the release of In My Ear, Your Voice Still Flickering // Bên tai tôi, giọng người vẫn chờn vờn, a special-edition, three-volume zine in collaboration with Saigoneer, an English/Vietnamese publication based in Saigon. For this fully bilingual collaboration, Vietnamese writers, translators, and artists from around the world collaborated to create original works.  Drawn from memory, lived experiences, and shared origins, the three volumes provide an artist's view into Vietnam's diverse, contemporary, cultural life. The online program included readings and filmed artwork by several of the participating authors.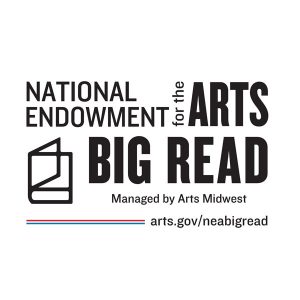 What is the NEA Big Read?
A program of the National Endowment for the Arts, NEA Big Read broadens our understanding of our world, our communities, and ourselves through the joy of sharing a good book. Managed by Arts Midwest, this initiative offers grants to support innovative community reading programs designed around a single book.
For more information about the NEA Big Read, visit www.arts.gov/partnerships/nea-big-read
For information about the NEA, visit www.arts.gov
For information about Arts Midwest, visit www.artsmidwest.org