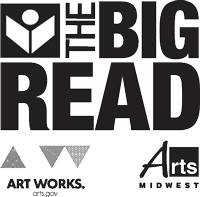 The Big Read: A Community Shared Reading Program Powered by the National Endowment for the Arts.
The Center celebrates reading February 5 – March 5, 2015, with The Big Read, featuring events and activities inspired by the novel, When the Emperor Was Divine by Julie Otsuka. Events include a visit to the Morikami Museum and Japanese Gardens, book discussions, author lectures, haiku poetry workshops for teens, and a discussion of the internment of Japanese Americans during WWII and how this chapter in our history relates to other civil rights violations past and present.
In When the Emperor Was Divine, Otsuka addresses themes of race, identity, loyalty and patriotism. In her sparse and beautiful prose, she quietly reveals the ugly underbelly of being "other" in a country which both embraces and rejects its immigrant self.
The Big Read is a program of the National Endowment for the Arts in partnership with Arts Midwest, designed to revitalize the role of reading in American culture.
Call 305-237-3940 for a full list of events and to request a free book.