Making Good Time: Story and the Map of Opportunity with Lynne Barrett
Saturday, February 8, 2020 @ 10:00 am
265 Aragon Ave.

,

Coral Gables

,

United States
Saturday, February 8 (1 day)
10 a.m. – 1 p.m. | Books & Books, Coral Gables
Come to Books & Books (itself a crossroads), where we'll look at how writers use place, movement, territory, obstacles, access, boundary crossing, departures, returns, and other aspects of spatial movement to construct, shape, and give meaning to stories, whether true or invented. Short examples from published work will focus on South Florida, while participants can draw on locations anywhere, real, imagined, or somewhere in between, for what you'll write in response to the prompts in this generative workshop, to get you going on new writing or help you to get a handle on work in progress. Suitable for those interested in writing memoir, personal essay, narrative nonfiction, and fiction, from flash length to longer projects. This workshop will combine lecture, discussion, and individual writing.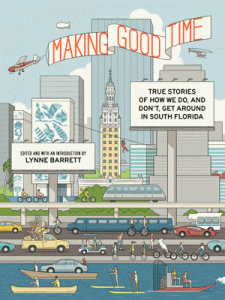 Lynne Barrett is the editor of the new anthology Making Good Time, True Stories of How We Do, and Don't, Get Around in South Florida and the author of three books of short stories, most recently Magpies, which received the Florida Book Awards fiction gold medal. Her writing has appeared in many magazines and anthologies, including Flash! Writing the Very Short Story, One Year to a Writing Life, and Just to Watch Them Die: Crime Stories Inspired by the Songs of Johnny Cash. She has received the Edgar Award for best mystery short story, edits the Florida Book Review, and teaches in the MFA program at Florida International University.  You can learn more at www.lynnebarrett.com
Other social media:
Twitter: @LynneBarrett
Facebook: https://www.facebook.com/LynneBarrettauthor
---
Scholarships Available for MDC Students
Miami Book Fair is offering three (3) full-tuition scholarships for MDC students interested in attending the above-listed creative writing workshops. Applicants must be currently-enrolled, (full time or part time) degree-seeking Miami Dade College students with a demonstrated financial need.
To Apply for a Scholarship:
Please send an email to Lissette Mendez, Miami Book Fair programs director at lmendez@mdc.edu before the start of the workshop you would like to attend. The message must include your contact information, the title of the workshop you'd like to take, a short statement of financial need, and a writing sample. First-time writers who lack a writing sample should submit a statement explaining their interest in the workshop.