FIRST DRAFT: A Literary Social (March 2020)
Thursday, March 19, 2020 @ 6:30 pm
1300 Biscayne Boulevard

,

Miami

,

United States
In an abundance of caution, following recommendations from the Governor of Florida, Miami Dade College is canceling all cultural events. In line with other cultural institutions and centers, the Miami Book Fair will close/cancel all events until further notice. This decision is made with your comfort and safety in mind and that of our generous patrons, students, and guests.
As part of Miami Dade College, Miami Book Fair will continue to closely monitor COVID-19. MDC is coordinating efforts with the appropriate state and local authorities. We recommend that you visit MDC's information and resource page and check back frequently.  
For more information regarding our closure and to stay tuned regarding the resumption of our programs and regular operating hours, please visit MiamiBookFair.com and closely monitor our Facebook and Instagram channels.
---
A guided writing prompt with a twist.
Because writing is thirsty work.
Have a drink. Write a story. Have another drink. Write a better story.
Miami Book Fair presents First Draft, a series of informal writing events that turn happy hours into great stories.
Theme: Memories (The Big Read 2020 Special Edition)
Instructor: Lorene Cary
You're inspired. But you're also thirsty. Swing by a First Draft event for a drink (the first one's on the house) and a guided writing prompt. Share your writing. You never know what you might knock out as you knock one back!
---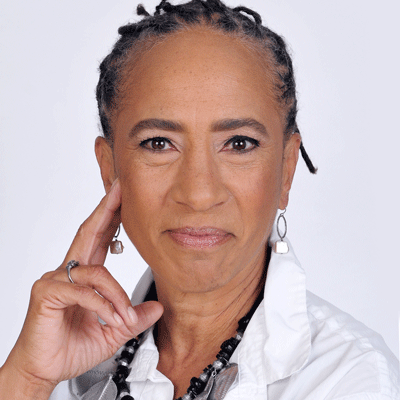 Lorene Cary is author of the memoir Black Ice, three novels, and a book for young readers. She teaches at the University of Pennsylvania and has written a one-act opera of Ladysitting and a play, My General Tubman. She lives in Philadelphia.
The first 30 people to arrive will receive a free copy of Lorene Cary's Ladysitting: My Year with Nana at the End of Her Century
About Ladysitting: Lorene Cary's grandmother moves in, and everything changes: day-to-day life, family relationships, the Nana she knew—even their shared past. From cherished memories of weekends she spent as a child with her indulgent Nana to the reality of the year she spent "ladysitting" her now frail grandmother, Lorene Cary journeys through stories of their time together and five generations of their African American family. Brilliantly weaving a narrative of her complicated yet transformative relationship with Nana—a fierce, stubborn, and independent woman, who managed a business until she was 100—Cary looks at Nana's impulse to control people and fate, from the early death of her mother and oppression in the Jim Crow South to living on her own in her New Jersey home. Cary knew there might be some reckonings to come. Nana was a force: Her obstinacy could come out in unanticipated ways—secretly getting a driver's license to show up her husband, carrying on a longtime feud with Cary's father. But Nana could also be devoted: to Nana's father, to black causes, and—Cary had thought—to her grandchildren and great-grandchildren. Facing the inevitable end raises tensions, with Cary drawing on her spirituality and Nana consoling herself with late-night sweets and the loyalty of caregivers. When Nana doubts Cary's dedication, Cary must go deeper into understanding this complicated woman. In Ladysitting, Cary captures the ruptures, love, and, perhaps, forgiveness that can occur in a family as she bears witness to her grandmother's 101 vibrant years of life.
Tickets are not available as this event has passed.