FIRST DRAFT: A Literary Social (Gay8 Festival 2017)
Sunday, January 15, 2017 @ 12:00 pm
1465 SW 8th St

,

Miami

,

33135

United States
Have a drink. Write a story. Have another drink. Write a better story.
Instructor: J.V. Portela
Miami Book Fair presents First Draft, a series of informal writing events that turn happy hours into great stories.
You're inspired. But you're also thirsty. Swing by a First Draft event for a drink (the first one's on the house) and a guided writing prompt. Share your writing. You never know what you might knock out as you knock one back!
---
J.V. Portela (Habana, Cuba 1989) is a poet, translator, editor, activist and researcher based out of Miami, FL. He is the Editor of Jai-Alai Magazine—a print limited-edition journal of poetry, fiction, essays and black-and-white drawings—the Founding Editor of Miami-based press La Pereza's new collection of literature-in-translation, the Associate Editor of Jai-Alai Books, Programming Director of Reading Queer, and the Translator and Interpreter of the O, Miami Poetry Festival. His poetry has appeared in journals such as Conexos, SensationFeelings, and Nagari, and he is the translator of three books of poetry: Dave Landsberger's Suicide by Jaguar (Jai-Alai Books 2014), Peter Richards' Helsinki (Casa Vacía, forthcoming 2017), and Legna Rodriguez Iglesias' Chicle: Ahora Es Cuando (2016), which is the first English translation ever published by renowned Cuban press Letras Cubanas. His original children's poems about native South Florida wildlife will be permanently exhibited by the Miami Frost Museum of Science as part of its Everglades ecology exhibit and eventually published as a children's book. He is also the recipient of a Field Research Fellowship from the Tinker Foundation, a Full Research Fellowship from the Cuban Heritage Collection at the University of Miami, and an Evidence Acquisition fellowship from Florida International University for his doctoral research on the construction of queerness in contemporary Cuban culture. He shares a tiny home, a lush garden, and an avocado tree with his lover, four disinterested cats, and some dusty piles of books.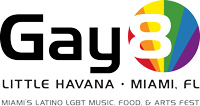 Tickets are not available as this event has passed.