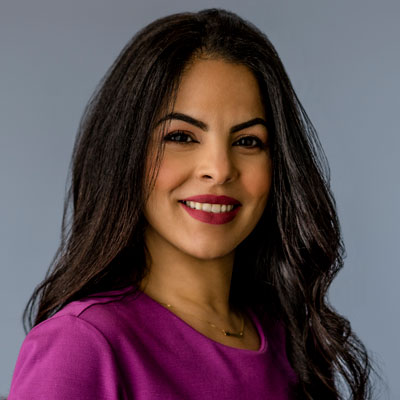 Belissa Alvarez, director of The Jorge M. Pérez Family Foundation, was born in Puerto Rico to Dominican parents and grew up in New York. She's lived in Miami for 16 years, where she's dedicated to uplifting the collective community through strategic philanthropic efforts.

---
The Foundation supports Miami Book Fair's Emerging Writer Fellowships through its CreARTE initiative, which launched in 2019 – tell me about that decision.
The inaugural cohort for CreARTE received more than 200 applications during the pre-proposal phase, and less than half – including MBF – were asked to submit a full proposal. One of the main focuses of CreARTE is to support not only artistic excellence in our community, but also access to the arts. EWF in particular was very attractive to us because it provided an opportunity to support something that was new and exciting, and it also brings writers here to engage in Miami locally, develop their work, and share some of what they are doing with our community.
How does MBF's work align with that of the Foundation?
At the core of what the Foundation and MBF both do is elevate the arts and culture scene of Miami. We're primarily known for great weather and great beaches, but we're so much more than that. We have amazing artists that are part of this community, we attract other artists of excellence to come here to work and showcase their talents, and that's an incredible thing to be a part of and support.
Why is supporting cultural institutions like MBF important?
The bulk of the Foundation's funding supports the arts and cultural ecosystem of Miami. That's important to the Pérez family because they truly believe that art is something that enriches a community, and that artists have a very important role to play. They bring so much joy and pleasure to folks, and they're often the ones taking on the really critical issues, like racial inequality, social injustices, sea-level rise, and other things.
Do you Book Fair every year?
I do! I love to read and I always look to the authors MBF has lined up to see what I want to read next. I also have a 5-year-old daughter, Alessandra, who loves Children's Alley. The programming there is so engaging – you guys really, really do a great job. It's phenomenal.
What's the most gratifying part of your work for the Foundation?
For me I think it's connecting with individuals and hearing the stories of how whatever investments the Foundation is making is impacting their lives. To have the opportunity to speak with, for example, the fellows at MBF, and see firsthand how our work is bringing about real-life change for real-life people is wonderful.
What are you currently reading?
Barack Obama's book (A Promised Land) is on my nightstand right now. It's so big! It's like 700 pages and I'm a little more than halfway through. It's one of those books that you have to take a little bit of a breather from and come back to.
Did you have a favorite book growing up, something you read over and over again?
In the Time of the Butterflies by Julia Alvarez. She's one of my all-time favorite authors and I absolutely love that book. It's about these strong women from the Dominican Republic who stood up to this horrible dictator, and their bravery and their role in changing the course of history is so inspiring to me.
Interview by Elisa Chemayne Agostinho.