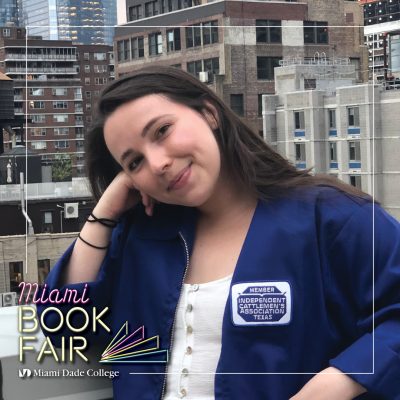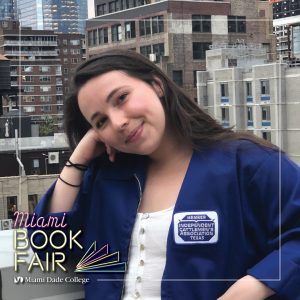 Hannah Matheson is the senior editor at Four Way Books, an indie, New York-based publishing house celebrating its 30th year that's focused on releasing 18-20 poetry, short story collection and novella titles each year. (Poet and longtime Friend of the Fair Michael Anna De Armas is on its board.) Originally from Texas, Matheson – who started out at Four Way as an intern – recently sat down with us to talk about, what else, books.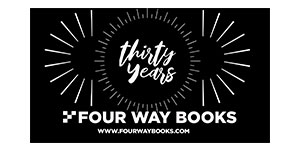 What about MBF compelled Four Way to become involved in the Fair?
At Four Way, we get to pursue literature that we think will be impactful to people's lives and that has value outside of how the market has valued it. I think MBF is really special because it's taken profit out of the equation – not entirely, of course, but to an extent – where it's more about meaningful connections to literature. Everyone deserves access to that, both as writers and as readers.
What were your goals at the 2022 Fair?
We wanted to make contact with more Miami readers and organizations, we had three writers invited to present – Nathan McClain, Victoria Redel, and James Fujinami Moore – and we launched our new podcast, "Coordinates: A Podcast for Writers and Readers." Our panel for that included Nathan; Ryan Murphy, who's the director at Four Way Books; Matthew Olzmann, who had recently published Constellation Route; and myself as moderator. We focused the discussion around the relationship between authors and their editors/publishing houses. That was really great; we had a good time.
Were you able to pop into any non-work-related sessions at the Fair?
I was at our booth the majority of the time, but I was able to see some of the headliners – I've loved Patti Smith's work forever and got to see her big talk. And she closed it out with a performance, which I wasn't expecting!
What are you reading right now?
I finished Sometimes I Never Suffered by Shane McCrae last night. I was totally captivated by it and couldn't go to sleep until I finished it; I loved it. And I just picked up a few new ones that I'll get to next: Couplets by Maggie Milner and Tanya by Brenda Shaughnessy, which I've been really excited to dig into. And also The Death of Sitting Bear: New and Selected Poems by N. Scott Momaday.
Describe your ideal reading environment.
I love being cozy and reading in bed; I recede from myself and my body entirely. But it was the most beautiful day in New York last Friday and I had my new books with me and I sat by the water in the sun – I was in Brooklyn – and it was idyllic. I love to read outside with a light breeze around me, experiencing a heightened awareness of being alive and being in community with all of these thinkers who I'm lucky to be able to access.
It's your fantasy dinner party. Who are you breaking bread with – alive or dead – and why?
This is a blast from the past, but in high school I was really obsessed with Sor Juana Inés de la Cruz, because I loved that she wrote political poetry anonymously and got into arguments with men and seemed so smart and bold. Toni Morrison; every interview I've ever seen of her was such a profound and interesting discussion. Vievee Francis; she was one of my professors in college and reading her work changed my life at what was such a formative time. I return to Forest Primeval quite a bit. Oh, and also Mary Ruefle. I love her poetry and also her prose; I read Madness, Rack, and Honey in high school and I found it so exciting. It's lived in my mind for years.
Interview by Elisa Chemayne Agostinho.