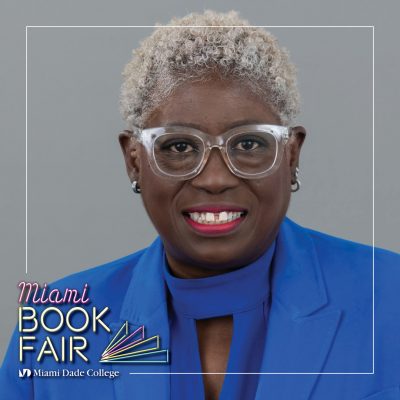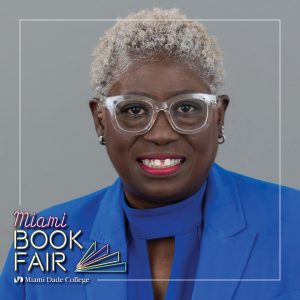 Dionne Polite is director of state operations for AARP's Florida team, which she joined after spending six years in the organization's New York office. A Broward County resident, she recently welcomed grandchild Josea – her first! – in December.


AARP first became involved with Miami Book Fair in 2020 – what compelled you to come back as an even bigger supporter in 2022? And what about our work most resonates with AARP's community outreach efforts?
We understood that we needed to help transition our members back to this new definition of "normal" life – what does that look like now? And we're really intentional about making people understand that even though AARP is an organization for people 50 and older, you can be in your thirties and forties, for example, and still find value in what we offer. In fact, during the pandemic we gained 10,000 new members between the ages of 30 and 40.
Wow!
Yes, as families sheltered together it became known that AARP had the resources, tools, and information that allowed generations to live together under these very different circumstances. That enabled us to show up as an organization for people of all ages. And being a part of Miami Book Fair allowed us to connect with an intergenerational crowd, share relevant information, and have meaningful interactions with the community. Those are key things for us.
Why is supporting cultural institutions like MBF so critical in building community?
Culture is important. When we're able to show up and be culturally relevant, it speaks to our commitment to be what we need to be for each member of AARP, or even the people who are considering membership. With Book Fair, there are so many things being discussed that people are really interested in and make a difference, like the environment, brain health, and accessibility, for example. Fairgoers get all that and a bag of chips.
And Book Fair truly is an intergenerational experience, and a place for diversity. That's what I found walking around. Next to our booth were some monks; across the way were a group of kids with comic books. Really, that's what the world should look like – all different sizes, races, creeds, colors – all of that. We are cohabiting in a space that Miami Book Fair built. What could be better than that?
Book Fair is about community, yes, and for us that starts with books. How does our work align with your personal thoughts on access to literary culture, or those of AARP's?
We want folks to live the best of their life, for the rest of their life. We're a wealth of information and resources and we encourage investigation – all you gotta do is stop and read and figure it out; don't wait around for someone to bring you that knowledge.
We were founded over 60 years ago by a woman named Dr. Ethel Percy Andrus; she had this vision of older Americans being well informed, feeling safe in their space, and being empowered to live the way they want to live. She was a retired teacher and high school principal, and so at the core of our approach is education. One of my favorite quotes is "knowledge is power" – and at Book Fair, whatever it is you want to know more about, you have options. You shouldn't be limited to one particular option or experience, and y'all are an example of that.
You spent some time strolling around Street Fair – did anything in particular stand out for you?
I loved everything about it! I interacted with some of the young people that were there and met a group of kids from Breakthrough Miami, which I wasn't familiar with, and then later, when I was walking back from the food trucks and looking at our booth, I thought, 'How dope is this?' That we had so many young people walking around and then right there is AARP. Book Fair is, again, a great representation of all generations.
You've got a new grandson – what are some books you'd like to see read to him, and others you'd like to see him read himself as he grows up?
Goodnight Moon, because I read it to my kids. And there's a book written by my friend Khalil Muhammad who's a professor at Harvard, a book about him and his best friend; Khalil is Black and his friend is Jewish. And I love that, because I want Josea to understand: Don't limit yourself by people who want you to think you can't be best friends with somebody who isn't the same color as you or doesn't have the same interests as you. We want him to live a life of inclusion and understanding. As a grandmother, I think I have a responsibility to really ensure that he grows up to be a human being and a man that lives in contribution. And lives in contribution in a way that makes a difference for everybody, not just one type of person.
It's your fantasy dinner party and you can choose to sit down with any three authors of your choosing, living or dead – who's getting an invite?
Maya Angelou; I am obsessed with her. My friend Khalil, because he's an intellect and he's approachable and I never feel like a dummy when I'm talking to him, and I want my world to be rich in color in the types of people that I surround myself with and he has that same perspective. And – this might sound corny – Saint Francis of Assisi, just because [his writings] are about the "normal man" and learning the gift of forgiveness and the gift of loving someone unconditionally, just because.
Interview by Elisa Chemayne Agostinho.