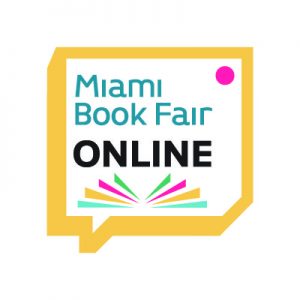 We want to make it easy for you to attend Miami Book Fair events online. 
Getting Started
Visit Miami Book Fair's Virtual Events page, to see a full schedule of our online events. Pick an event you want to attend. Click on the Join Livestream button in the event description. This will take you to one of the two platforms we're using to host our events online, Crowdcast or Facebook Live. We recommend registering in advance to receive email reminders. 
Facebook Live 
Facebook Live will be used for virtual readings. Viewers can interact with the speaker during a broadcast through Reactions, Shares, comments and other interactive features.
Once you register for a Facebook Live Event, you will be notified when it goes live. You can join the Facebook Live event from your browser, or from any of your smart devices using the Facebook iOS or Android app.
Crowdcast
Crowdcast is a live video platform for webinars, Q & As, courses and online conferences. It allows attendees to chat, ask questions, and join speakers on screen when prompted. 
If you're attending an event on Crowdcast, you will need to register for the event and create a personal profile. 
You will receive an email confirmation and a reminder to join the event 10 minutes before the event is scheduled to go live. There are several ways you can join the Crowdcast stream: 
Browser: Crowdcast works with desktop or laptop computers running the latest browsers, including: Chrome  / Firefox / Safari / Opera / Edge. Use Google Chrome as your browser and update in advance. Crowdcast recommends opening the event in a single window with no other tabs open. You also need to have a strong internet connection with an upload speed of at least 5Mbps. If you know your internet to be spotty, consider connecting directly with an ethernet cable.
Click the link to test if your browser supports Crowdcast: https://www.crowdcast.io/setup
Android: Crowdcast is supported on the latest Android devices right in the Chrome browser, no downloads required. 
Apple iOS Devices: You can download the Crowdcast iOS app to attend events from your iPhone or iPad.