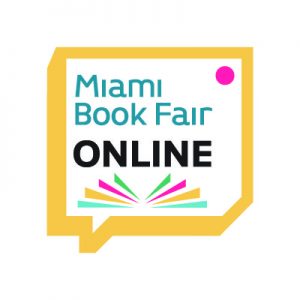 We want to make it easy for you to moderate or speak at Miami Book Fair events online. Crowdcast is the live video platform we are using for webinars, Q & As, courses and online conferences. It allows attendees to chat, ask questions, and join speakers on screen when prompted.
Getting Started with Crowdcast
If you're attending or participating in an event on Crowdcast, you will need to register for the event and create a personal profile. To register, simple visit the event link. No software download required.
---
Check Your Browser and Internet Connection Speeds
Crowdcast works best on desktops or laptop computers running the latest browsers, including: Chrome, Firefox,  Safari, Opera, Edge. 
We recommend you use Google Chrome as your browser and update in advance. Crowdcast recommends opening the event in a single window with no other tabs open. 
---
You also need to have a strong internet connection with an upload speed of at least 5Mbps. If you know your internet to be spotty, consider moving closer to your WiFi router or connecting directly with an ethernet cable. Please avoid using your mobile devices or mobile internet hotspots to connect. 
---
Day Of The Event
If you are a moderator or speaker, please check in via the link at least 30 minutes before the official start time. You'll be able to test your mic and camera, etc. work out any last-minute questions and details with the MBF rep in the "green room" before the event goes live. It is recommended to use headphones as a speaker of the event to avoid sound issues and echo. 
Once you're logged in, You will show up as an "attendee/participant" and our MBF staff (as "host") will be able to "call you on stage". You will receive a pop-up notification prompting you to join your host in the green room. 
Audio Setup
It is highly recommended that all moderators and participants use noise reducing headphones for the best audio quality. Please sit in a well-lit area, be mindful of your surroundings and remember to wear pants! 
During The Event
You can invite participants on screen and engage with attendees using the chat function.
Attendees can leave questions at the bottom of the screen – click the "Ask a Question" button to expand it and see everything that has been asked thus far. It is recommended that you read the question out loud before answering it.
Troubleshooting for the host – if anyone is having issues with the sound of the video and hearing other participants, it's recommended that the host click the OPTIONS dropdown in the top right corner and select RESET SESSION at the bottom. You will have to add your guests in once again, but nothing about the event will change for the attendees. Please note, you will lose what had been recorded of the live session up until that point. 
After The Event
The livestream is recorded for playback via the link, so if anyone misses your reading, they will be able to replay it as long as MBF keeps the link active. You can share the entire session or clips on social networks.