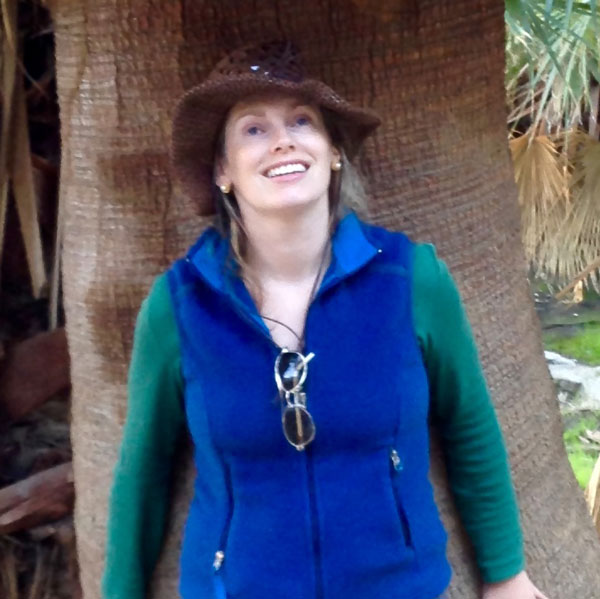 Patron of the literary arts, poet, mom – Michael Anna de Armas finds what feeds all three of those loves at Miami Book Fair, so it's no surprise that she's a Friend of the Fair!
When did you become a Friend of the Fair?
I think I started in 2017, and it was Lisa Better who first told me about the Friends, although I was already very familiar with the Fair. I've participated in a lot of the programming for writers, and as a writer I have benefited so much from that. So I wanted to support more poets in coming to Miami to teach more aspiring poets. Finding out about the Friends was like finding the missing link to help make that happen, and to being a part of that literary ecosystem.
Do you usually Book Fair solo or with family and friends?
I have two kids, and I do take them to Book Fair events and programs throughout the year, but at the Fair itself in November, I'm usually on my own. I always run into people I know, though, usually around the very delicious food court options. I'm always surprised by how many people I see, and so happy to have that opportunity to connect, especially if we haven't seen each other in a while.
Everyone comes to the Fair.
Exactly!
What kinds of experiences have your kids had with Book Fair?
Both my daughters are avid readers, but Allegra, she's 13 now, was obsessed with The Land of Stories by Chris Colfer – she read the whole series four or five times – and he was speaking at the Fair. So we went to see him and she got to ask him a question about the books, and it was wonderful to see her interact with him. More recently she went to a Speak Up poetry class with Naomi Shihab Nye. The writing prompts she gave the kids were incredible, and Allegra walked out of that workshop grinning ear to ear. Marion really likes to write, too – she's 8 – but her tastes are different. Her sense of what she wants to read is getting established right now, but she really likes poetry. She loves Wordsworth.
Tell me about a Book Fair highlight of your own, one that's stayed with you.
Hearing Gary Snyder speak! He's an enormous poet for every poet out there, I think, but for me, because I've studied his work really closely, it was a really big deal to sit in that audience and hear him read and answer questions. But really, there are so many highlights. The National Book Award dinner is another, and the year that Jos Charles was here and read from Feeld is definitely one of my favorites.
Has Book Fair helped you discover new writers, people whose work you began to seek out after seeing them at the Fair?
Yes, Edwidge Danticat is one that comes to mind. She wrote a book about grieving, and I went to hear her read and was just sort of spellbound. I've been reading her stuff since then.
Which books are piled up on your nightstand that you're waiting to read?
Yeah, the pile is massive – I think my books are going to be moving me out soon! Right now I'm reading Obit by Victoria Chang and loving it. She's teaching at Miami Writers Institute this month and I'm taking classes with her. I think next up is going to be Yona Harvey's You Don't Have to Go to Mars for Love.
The Fair was a very different animal last year – thanks pandemic – how have you engaged with the programming?
I've absolutely been indulging after the fact. My family is usually out of town during the week of the Fair; I stay here so I can go. But last year I went with them since the Fair was virtual, which meant I could watch the programs later, if not live. And I have! I earmarked the things I wanted to see and did it at my own pace. There's one presentation by Yona Harvey and Major Jackson that I watched in February. They both read and had a conversation, and it was such a phenomenal thing to listen to.
You and your husband, Fabian, hosted a Speak Up fundraiser in your home – how did that come about?
I think it's really important for kids to number one, grow up with access to the writers they love, and number two, learn how to write themselves from writers. Becoming a lover of literature so often starts in childhood. Book Fair does that, and it also helps avid young readers learn how to write powerful stories and poems in their own irreplaceable voices. Supporting Miami Book Fair and Speak Up in particular means that all of that great programming is free to as many kids as possible.
Poetry's been a thread running through our conversation today, and I think ending it with a work of your own is the perfect coda.
Thank you! Yes, it's a piece that first appeared in the Leon Literary Review and I'm very happy to be able to share it here.
The Switch
Yes it's true you can break things,
I tell my younger daughter one night, who,
after crying in her crib in our room
without much result, turns the light switch
on and off and so makes her need known
to an entire city block, even boats out in the bay
see the wild flicker of her distress.
Be careful, gorda, you can break the light switch that way,
which turns her need into a breakable object,
which gives her incentive to break it. Christ
she can't even stand up yet. After she falls asleep, I ask myself,
is she writing with the light switch her language
in the middle of the night; or, is she translating
what she has learned so far of ours?
Interview by Elisa Chemayne Agostinho.