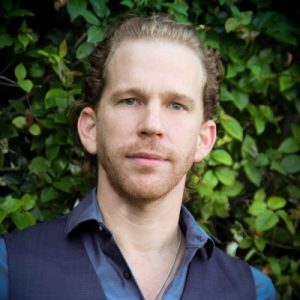 It's National Poetry Month and you're inspired. But you're also thirsty. Join us this coming Wednesday, April 11 for a special National Poetry Month Edition of First Draft, our monthly series of informal writing events that turn happy hours into great stories.
Led by beloved local writer and therapist Guillermo Cancio-Bello, this First Draft promises to be a special one. Participants will explore the relationship between joy and the poetic image through a series of discussions and exercises sure to generate plenty of fresh new material for your writing practice.
But don't just take our word for it. Read our interview with Guillermo below and hear it straight from the author's mouth: "If you can make meaning out of the seen world, that's a beautiful thing."
Quench your thirst for writing this Wednesday. Swing by for a drink (the first one's on the house) and a guided writing prompt. You never know what you might knock out as you knock one back.
---
The theme for April's First Draft is "Joy and the Poetic Image." How did you choose that theme?
The poetry that I have always been drawn to is poetry full of powerful images. Poems that have meant the most to me are those that convey a strong sense of wonder about the world. Even if it's not the happy-go-lucky kind of joy—because there can be joy in sadness and melancholy.
What are some of your poetic influences?
Recently I've been reading Czeslaw Milosz and Robert Hass. Hass wrote this poem, "The Yellow Bicycle," in which he moves from the lyric into a prose block and back. In the lyrical part, he introduces the image of this yellow bicycle to demonstrate the whimsy of the speaker's partner. It goes into detail about how the pair went out one night and met this old woman who was so content with life. He uses the bicycle as an object to signify contentment and the idea that life has meaning beyond whatever you think you see in someone else.
Milosz also wrote a poem called "Yellow Bicycle" that starts "As long as we move at a dancing gait, my love," to remind readers that as long as we don't get bogged down in life, as long as we remember to find joy, there's a certain wonderfulness in that.
These poems are in conversation based on the image and based on how each person discovered something in a seen object or in the happenstance of the situation of which this image is a reminder. I'm interested in how the bicycle can be imbued with such meaning and drive a poem, which is one of the best things that poetry can do. If you can make meaning out of the seen world, that's a beautiful thing.
Can you give us a taste of what we can expect at this First Draft?
I would like this workshop to be a conversation among participants of how to locate a poem in an image, and how to find the meaning that's imbued there. Every image is inherently meaningful, and when you bring your personal experience to that encounter, that's what makes it most meaningful. Hopefully we'll make some great discoveries together