Interested in hosting a book drive?
Help us collect new or gently used books at your place of business or through your service organization.
We'll bring the donation bins to you and collect the books at the end of the drive. It's that easy!
We rely heavily on book donations in order to keep our bookshelves stocked all year long. Many of our donations come from our ongoing book drives throughout the county. Be a part of our story and host your own book drive!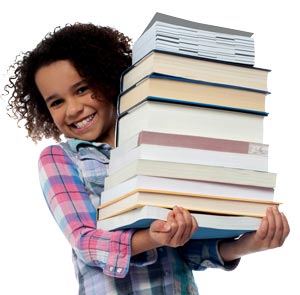 Top 5 Ways To Promote Your Book Drive
1. Time it Right
People need time to hear about the book drive, go through their personal library and bring the books to the donation site. Too short, and they stress out; too long and they forget. Often, a successful book drive last from 2 – 4 weeks, although you can certainly keep going. Just let us know when the donation bin is full, and our drivers will pick up the books.
2. Distribute Flyers
Send out an e-blast to your whole organization, or pass out flyers the old-school way. We can create a PDF version for you. Just send us a file of your company logo.
3. Share on Social Media
Spread the word instantly via Facebook, Twitter, Instagram, and more. We can create social media graphic cards for you, and re-share your posts. Just use the hashtag #ReadToLearn
4. Announce a Contest
Challenge each department to donate the most books for a small prize and bragging rights. A little friendly competition for a good cause can rally people like nothing else. We can feature the winning team on our social media – just send us a photo and caption!
5. Make it Historical
Pair your book drive with national dates, such as Read Across America Day (in honor of Dr. Seuss's birthday) or Children's Book Week (held each May) to remind people to share the gift of literacy with others. You could partner with local schools and libraries to celebrate special dates in literature by donating books. For a list of national events that celebrate reading, visit http://www.ala.org/conferencesevents/celebrationweeks.