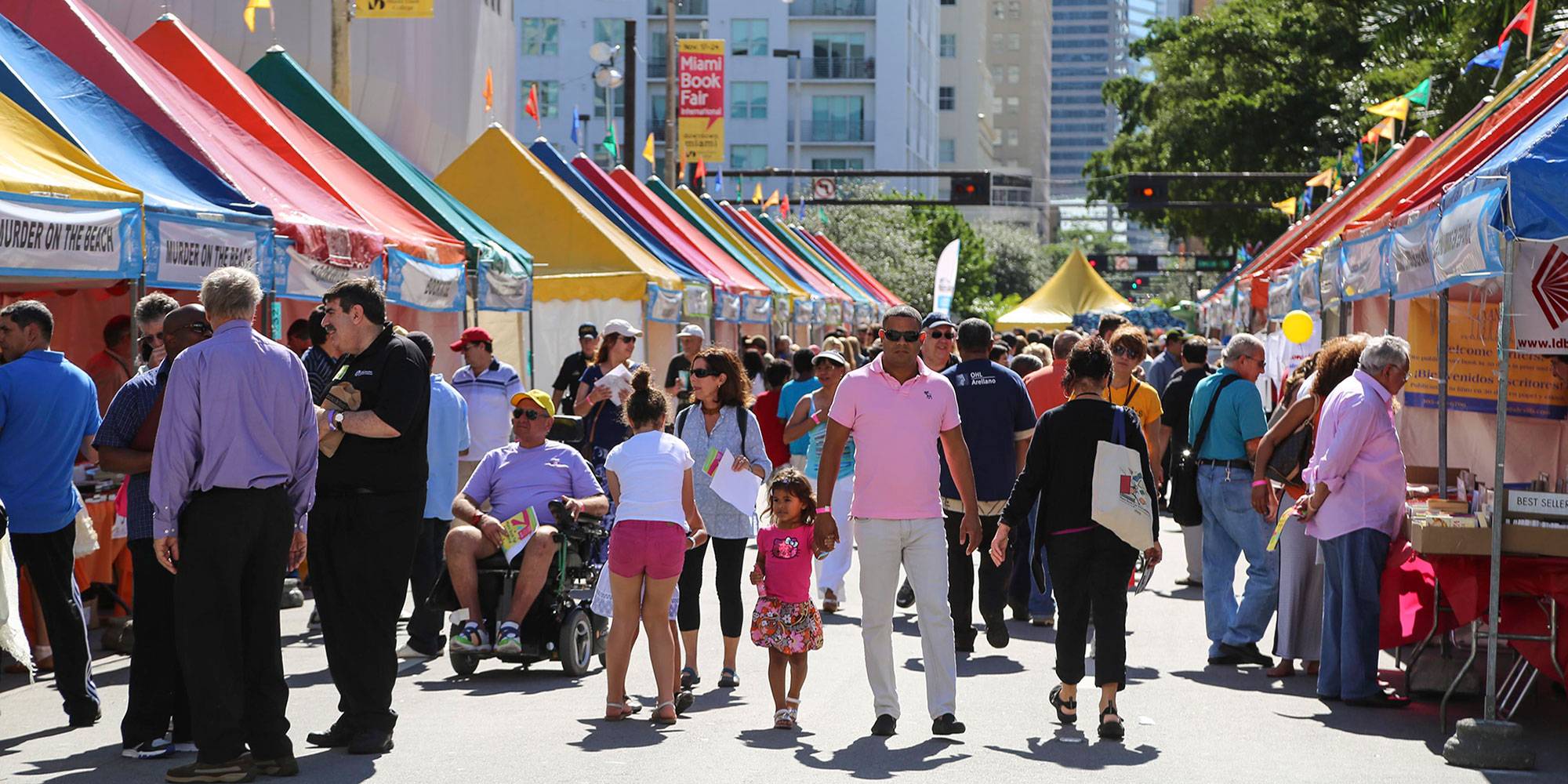 Miami Book Fair will be holding its 36th Fair on November 17-24, 2019. As an exhibitor, you are invited to be part of the Street Fair starting Friday, November 22 through Sunday, November 24, 2019. (Author presentations begin on November 17). Our exhibitors are a vital part of the event, and we hope you can join us this year.
Eligibility
In order to exhibit at the Miami Book Fair you must either sell books, book-related products, or promote a literacy-oriented program. You must either be a bookseller, publisher, or a non-profit organization focused on literacy or educational issues.
Location
In downtown's central business district surrounding the Miami Dade College, Wolfson Campus, which will be closed to street traffic.
Hours
Street Fair hours will be from 10:00 a.m. to 7:00 p.m. each day – Friday, November 22; Saturday, November 23 and Sunday, November 24, 2019. Exhibitor booths must remain in operation throughout these hours.
Cancellation Policy
Exhibitors who cancel will receive a refund, but will be charged a $200.00 penalty fee only if written notice is received by September 15, 2019. Cancellations made after September 15, 2019 will receive NO REFUND.
Set-up & Registration
Exhibitors will receive specific instructions regarding unloading, registration and setting up booth prior to event. Please be aware that the process followed in previous years will be changing.
Hotel Accomodations
For your reference, there are a number of hotels close to the fairgrounds, including: Courtyard by Marriott, 305.374.3000; Holiday Inn, 305.371.4400; Hilton Miami Downtown 305.374.0000; Marriott Biscayne Bay, 305.374.3900; Hyatt Regency Miami, 305.358.1234.
Florida Sales Tax Number
To exhibit at the Book Fair, all exhibitors must provide their Federal ID Number or Social Security Number. A "Sales and Use Tax Return" form (DR-15CS) from the State of Florida Department of Revenue will be provided in your registration packet. Exhibitors are responsible for collection and remittal of all sales taxes. Fees and assessments required by any applicable federal, state, or local laws in connection with exhibitor participation in the Fair is the sole responsibility of the exhibitor.
Space Criteria
To ensure public safety and handicap accessibility, passable walkways must be maintained at all times. All exhibitors must keep all displays and materials within the constraints of the booth space(s). Handing out of flyers or merchandise to fairgoers outside of assigned booth space is not allowed. Failure to adhere to these directions will result in your removal from the Fair.
Weather
Weather can be unpredictable. One large plastic cover will be provided for each table. Exhibitors are encouraged to bring additional protective covering to protect their merchandise. Miami Book Fair International will not be held responsible for damage done to books or merchandise by inclement weather.
FULL BOOTH
For exhibitors with 10 or more titles
Premier
Package
$ 1,060.00
Two 6' Tables
Two Chairs
Two Table Covers
Two Credentials to give you free access to the event
One ID Banner on booth
One Exhibitor listing on the print Fairgoer's Guide*
One Ad in the printed Fairgoer's Guide*
One Exhibitor listing on the Miami Book Fair website*
One Hyperlink from Exhibitor listing on Miami Book Fair website to Exhibitor website*
One Parking Pass
Standard
Package
$ 750.00
Two 6' Tables
Two Chairs
Two Table Covers
Two Credentials to give you free access to the event
One ID Banner on booth
One Exhibitor listing on the print Fairgoer's Guide*
One Exhibitor listing on the Miami Book Fair website*
One Parking Pass
HALF BOOTH
For exhibitors with 4-10 titles
Premier
Package
$ 690.00
One Table
One Chair
One Table Cover
One Credential to give you free access to the event
One ID Banner on booth
One Exhibitor listing on the printed Fairgoer's Guide*
One Ad in the printed Fairgoer's Guide*
One Exhibitor listing on the Miami Book Fair website*
One Hyperlink from Exhibitor listing on Miami Book Fair website to Exhibitor website*
One Parking Pass
Standard
Package
$ 480.00
One Table
One Chair
One Table Cover
One Credential to give you Free Access to the event
One ID Banner on booth
One Exhibitor listing*
One Parking Pass
WRITER'S ROW
For exhibitors with 1-3 titles
Standard
Package
$ 320.00
(One Day Exhibitor)
Book Fair provides tent with sidewalls
One table and one chair
6 x 12 feet of space – two authors will share a 12' x 12' space
One credential to have free access to the event
One Parking Pass
Table top sign with author name and book title as indicated on this application
One Exhibitor listing on the printed Fairgoer's Guide*
One Exhibitor listing on the Miami Book Fair website*